Meet Kaaren Moller, beauty therapy apprentice.
Only a second-year beauty therapy apprentice, Kaaren has already travelled overseas and built a clientele – and that's just the beginning.
When Kaaren finished school, she was not sure what she wanted to do. While lots of young people in New Zealand are encouraged to go down the typical 'university route' Kaaren did not want to rush into anything without knowing it was exactly what she wanted to do. After finishing school, Kaaren worked as a courier driver. During her work as a driver, Kaaren would visit hair and beauty salons to drop off packages. She became intrigued by their work, so when the opportunity came up to do a free course in hair and beauty as part of the youth guarantee scheme, Kaaren took it.
Kaaren thought she would enjoy hairdressing more, but during her course, she "fell in love" with facials, and she knew beauty therapy was the career for her. She applied to work part-time in a beauty therapy salon, helping with cleaning and basic jobs. Eventually, her boss offered her a full-time job and an apprenticeship.
"I didn't have to look for an apprenticeship – my boss offered me one!"
Being able to work full-time while she gains her qualification has made paying the bills easier, Kaaren says. While you do not have to be qualified within Kaaren's region to be a beauty therapist, Kaaren says that there are benefits to working towards the qualification as it "broadens options – instead of being stuck with the same employer for your entire career".
"Learning while you work means that you can gain a better understanding of what you are doing and understand the structure of a real beauty business and the industry makes your job a lot easier."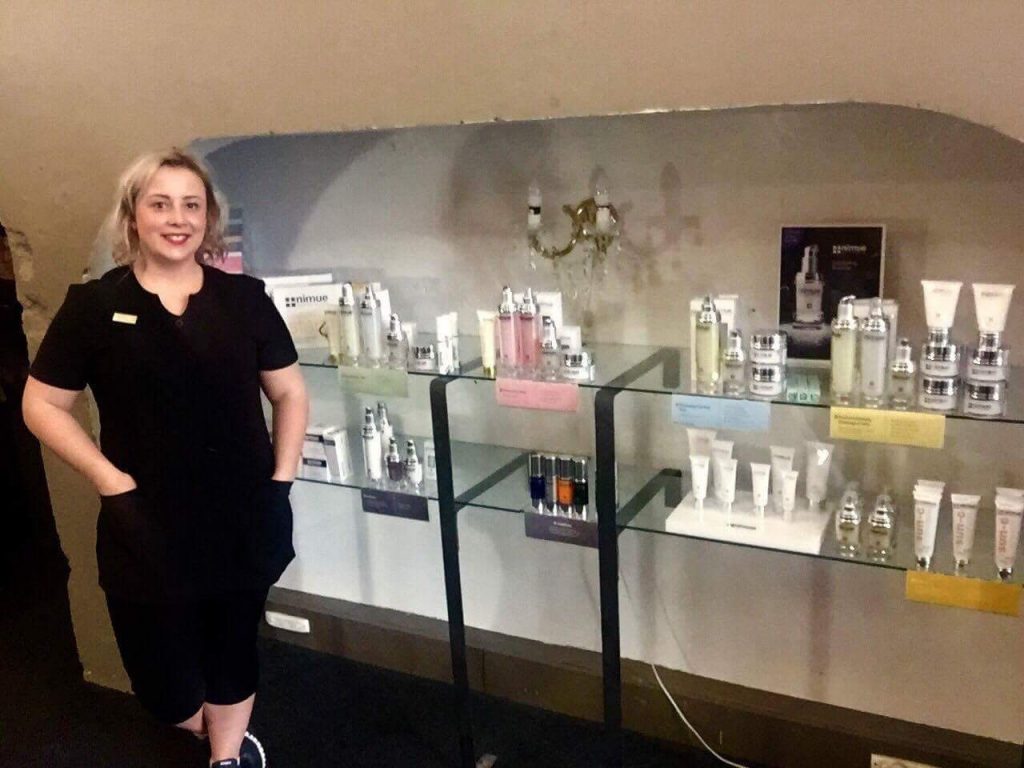 Kaaren also highlights that being qualified is important to the industry and creates a better standard – "a lot of women open their own businesses without the knowledge".
For Kaaren, the best parts of being an apprentice are the practical experience and the lack of student loan. She loves working full-time while she learns and building her clientele as she gains her qualification. Kaaren definitely prefers the practical nature of an apprenticeship over learning in a classroom – and it's better for the clients as well.
"If you go to a full-time course, you might do one or two waxes in a classroom and get qualified. If you're an apprentice, you'll do hundreds throughout your training in a real business with real clients. If you were a client, who would you want to do your wax?"
Besides earning while she learns, one of Kaaren's biggest career highlights was travelling all the way to South Africa for the International Skincare Therapist of the Year Awards with Nimue. Kaaren ended up as runner-up for the 'Best Case Study' section out of 45 people from around the world. This was a real highlight for Kaaren because she is most passionate about skin and wants to take this passion further. When we asked Kaaren what her future goals are, she said she wants to "expand on 'skin' and do a degree in nursing and do a post-graduate in appearance medicine – my boss is supportive of the nursing degree and wants to expand her business to include appearance medicine within her business".
Kaaren suggests that if you are thinking about doing an apprenticeship that it's important to have a supportive trainer and employer behind you. Make sure you make it clear what is expected of you by your manager and assessors and what you should gain through your journey. Being clear on all the information means you can make good decisions for yourself. Kaaren also recommends that before and during your apprenticeship you could offer services for free to gain experience as in the end it has led to her getting paid and scoring a full-time job and having a clear pathway for her future goals.
We are so proud to hear about Kaaren's journey so far and cannot wait to hear about what she does next! An apprenticeship is only the beginning.