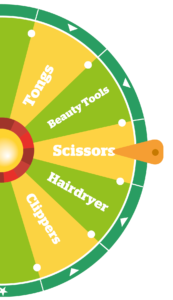 Sign up as an apprentice and we'll give you $250 towards tools!
An apprenticeship is the smart way to get quali­fied as a hairdresser, barber or beauty therapist. You'll earn wages while working towards the New Zealand Level 4 quali­fication in your chosen profession.
Sign up before December 14 and we'll give you $250 towards tools for the job, to kick start your training. Complete three months of on-job training in line with your training plan and we'll top up your kit with another $250 towards tools.
Talk to your local HITO Sales and Training Advisor about becoming an apprentice.
Terms and Conditions
Apprentices will be considered entrants if they have completed a HITO Training Agreement between September 14 and December 14 and if they are still employed at the time of the draw.
Entrants will be eligible to order hairdressing, barbering or beauty therapy tools from a professional supply store (e.g. Southern Salon Supplies, Combined Salon Supplies, Dateline) up to the value of $250. NOTE: tools must be purchased within three months of signing the Training Agreement.
To be eligible for the second prize of $250 towards tools after three months of training, entrants must have met the expectations outlined in their training plan. The training plan is set by the HITO Sales and Training Advisor in consultation with the apprentice's employer at the beginning of the apprentice's training. The second prize must be redeemed within three months of issue.
HITO's decision on the eligibility of the entrant for the second prize is f­inal.
Information submitted in the HITO Training Agreement must be true, current and complete. HITO reserves the right to disqualify any entrant who does not comply with these terms and conditions.
The promotion is open to New Zealand residents who meet the criteria for becoming a HITO apprentice.
If the training agreement between the employer and apprentice is terminated within three months, the entry will be disqualif­ied and the second prize will not be awarded.
Prizes are not redeemable for cash or transferable to any other person.
If a prize or part of a prize becomes unavailable, HITO reserves the right to amend the prizes at its own and sole discretion, including providing the winner with a substitute prize.
HITO's decision, as to those able to take part is ­final.
All information provided by the entrants will be collected, used, stored, disclosed and corrected in accordance with the Privacy Act 1993. All entrants have the right to access their information and request for any personal information to be corrected.
By entering the promotion, each entrant will be deemed to have accepted these terms and conditions and agreed to be bound by them.