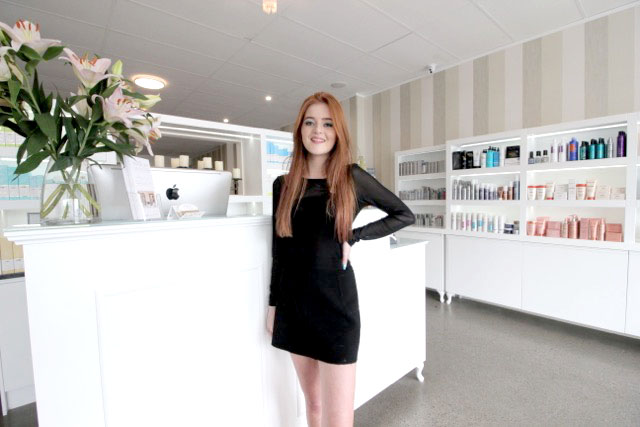 Olivia Haimes isn't afraid of a good challenge – she thrives on them. At just 16 years old, she recently started her hairdressing apprenticeship at Cremebrulee, one of Taupo's top hair and beauty salons.
Olivia met the owner of the salon, Patreece Corban, through the Gateway programme while a student at Taupo-nuia-a-Tia College.
"I wanted to learn from the best. Cremebrulee offered not only the best in hairstyling, but they also cover make-up, nails, and beauty treatments, so the opportunity was really appealing," said Olivia.
She started working full-time at Cremebrulee in December last year, and already she's proving to be an asset to the salon.
"Just in the short time she's been here, she's shown a lot of professional growth," said Patreece.
Olivia's Mum has been a hairdresser for over 30 years, but Olivia wasn't influenced by that and made up her own mind to pursue the apprenticeship offered through HITO (the Industry Training Organisation for Hairdressing, Beauty Therapy and Barbering). To gain a qualification under the apprenticeship scheme was an opportunity not to be missed. And of course Mum is really proud of her daughter, and the Fees Free initiative made the apprenticeship more accessible.
Even though she was keen on the apprenticeship prior to the Fees Free announcement, it will make a huge difference not having to take out a student loan. Olivia says she will be able to focus on the work and study without the pressure of debt. Having two years without fees has really motivated her to do well. "It's taken the pressure off me and now I'm really excited to do a good job," she said.
"After I've finished the apprenticeship I want to work at the salon for about five more years when hopefully I'll get the opportunity to travel." Like most young Kiwis, she wants to head off on her OE at some stage. "And maybe I'll be able to work in a London salon and gain international experience – that opportunity is really exciting."
Olivia found the information on her eligibility via the Fees Free website, which she said was easy to use. It gave her all the information she needed and she encourages other students to use it as it makes the process simple.
Through the HITO apprenticeship students get to learn their trade in a real salon, with real people as their models. And of course, earning as you learn can often avoid racking up debt. HITO manages the student's training in the salon and is always on standby if any problems arise.
HITO's General Manager of Stakeholder Engagement Debra Hawkins says it's exciting to watch hair, beauty and barber apprentices develop successful careers soon after they've completed their qualifications.
"The Fees Free initiative gives more students the opportunity to take this path."
Olivia is following her dreams to become a creative hairdresser and makeup artist. That's what the Fees Free initiative is all about isn't it – allowing our young people to achieve their dreams without a loan hanging over the heads?
For further information about hair, beauty and barber apprenticeships check out our apprentice page here.